PSSST. THESE ARE NOT COOKIES. But my kindergartener insists these broccoli & cheese patties are. Because of the shape. Obviously I did nothing to deter the automatic adoration that came with the name. I just got out the Ranch dressing and continued to mind my own business.
Yes, I totally believe in Ranch dressing as a vehicle for veggies. Sometimes I dilute it with plain yogurt, sometimes we serve it straight up. I never feel bad about it. Teaching kids to love real food is my goal, dip is part of my plan.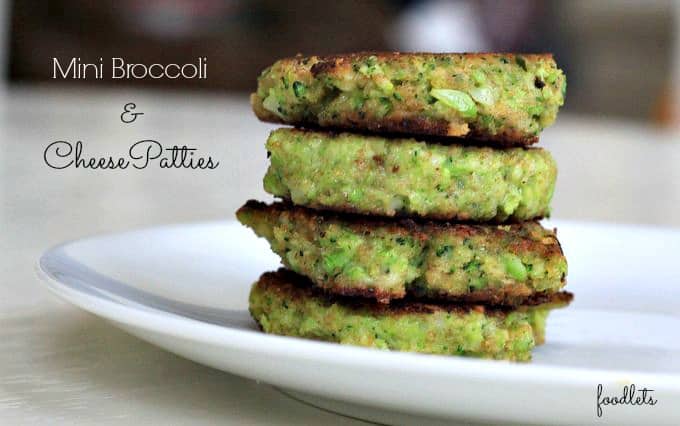 The down side of these patties is the part where you stand over the hot stove flipping them. The upside is a side dish that's downright adorable and doubles as finger food for babies & toddlers. And what chocolate chip cookie can say that?

Mini Broccoli & Cheese Patties ("Broccoli Cookies")
Ingredients
2 cups steamed broccoli (frozen or fresh)
½ teaspoon salt
6-7 cranks of fresh pepper
2 eggs
½ cup shredded cheese (parmesan or sharp cheddar are best)
½ cup whole wheat breadcrumbs
½ teaspoon garlic powder
1 teaspoon mustard
about 2 tablespoons olive oil
Instructions
Combine all ingredients EXCEPT THE OIL in a food processor and pulse until everything is finely ground.
Bring a frying pan to a medium-low temperature and add the oil. Roll broccoli mixture into 2-inch balls and place in the pan, flattening with the back of your spatula.
Cook for about 3 minutes on each side. The patties should feel firm to the touch when they're done. if they're getting too brown on the edges (like mine started to) reduce the heat to low which will give them more time to cook on the insides without burning the outsides.
Serve alone or with Ranch dressing.