Have you seen it? The how-to video on Facebook showing roasted squash stuffed with sausage and apples? (And are you following Foodlets on Facebook?) That's where the inspiration for this delicious dinner came from.
We gave it the Foodlets treatment: made it simpler, healthier and more kid-friendly.
Here's how it turned out.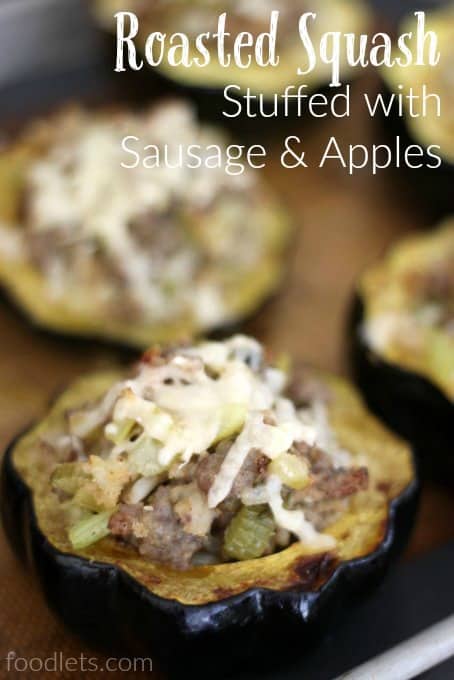 Foodlets Rating:
Phoebe (6): Thumbs Middle. "I like regular squash better."
Estelle (4): Thumbs Up! Ate it all, immediately.
George (3): Thumbs Middle. Ate some.
Violet (1): *Thumbs Down (If it's not a banana, Violet probably won't eat it this week.)
Paul, a known squash avoider: Thumbs Middle (I consider this a victory.)
Paul's Dad: "Thumbs Up!" (Paul's famously reserved dad told me three times that this one was a "Thumbs up". And had seconds.)
Paul's Mom: "This is delicious. Are you posting the recipe soon?"
Sure am!
One thing.
This recipe is definitely one to make at nap time or quiet time or get started on the night before. Only because there's tons of chopping and in my experience, any time I get out my big knife, three or four rascals start climbing all over me and at least one of them starts crying. It's not hard, or particularly time consuming, but it'll certainly go smoother if you can get to it without being interrupted. Repeatedly.
But you'll want to make it. Because it's a melt-in-your-mouth meal. And eating squash, packed with all sorts of nutrients and health benefits, is a great habit.
How to Make Roasted Squash Stuffed with Sausage & Apples
Start by roasting the squash.
Meanwhile, chop up all your celery, onions, apples and garlic. Then saute, along with the sausage. Throw in some whole oats and a bit of Parmesan cheese. Load up each squash and roast again.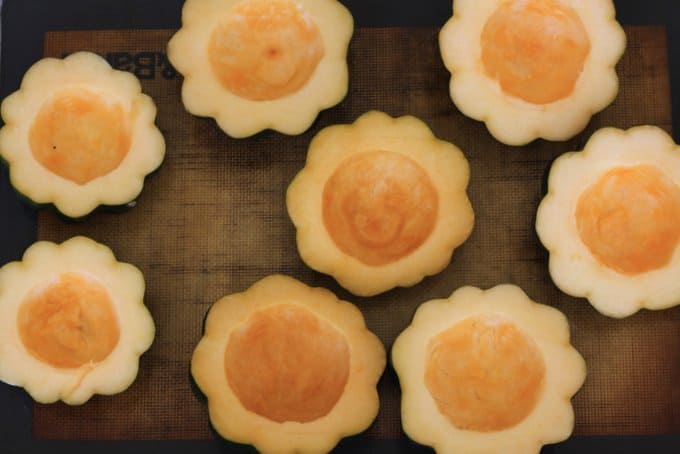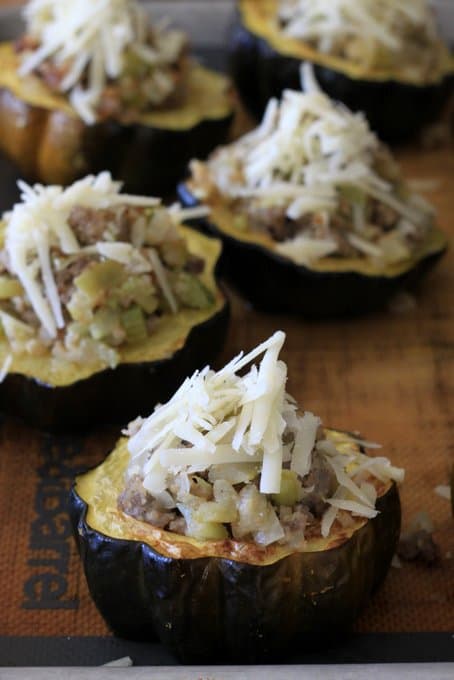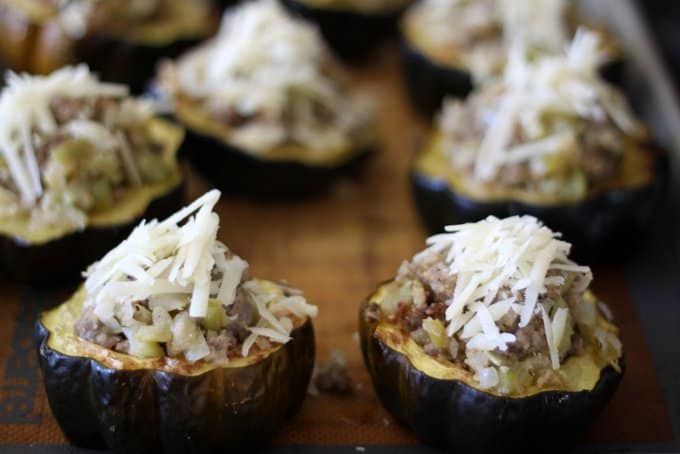 The result is buttery squash that makes its own bowl. As you scoop out bites of sausage and apple, you'll get some squash as well. For small kids, help them pull the soft squash away from the rind and don't forget to remind them: Eat everything except the dark part on the outside.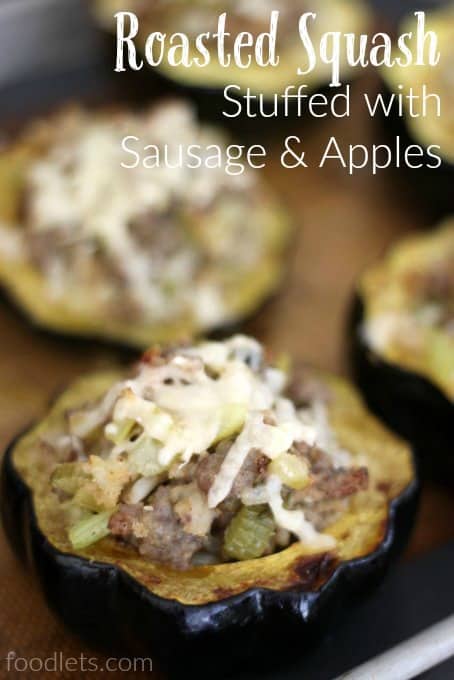 Roasted Squash Stuffed with Sausage & Apples
This serves 6-8 people. We used small squash but you could certainly choose larger squash for adults. We also had homemade bread and kale salad.
Ingredients
4 acorn squash
2 tablespoons olive oil
1 cup chopped onion (about 1 large or 2 medium onions)
2 Granny Smith apples, chopped
4 stalks of celery, chopped
1 teaspoon salt
¼ teaspoon pepper
1 tablespoon fresh rosemary or sage, finely diced
1 pound sweet sausage
½ cup parmesan cheese (divided)
⅔ cup whole oats
Instructions
Preheat oven to 400 degrees F. Cut tips off squash so it sits on the counter without rolling. Then slice squash in half down the middle. Scoop out seeds and place on a baking sheet. Drizzle with olive oil and roast for about 40 minutes.
While the squash cooks, cook your onions, apples and celery over medium heat in a large saute pan with about a tablespoon of olive oil. Add salt, pepper and herbs. Cook for about 5 minutes until everything starts to soften.
Clear a space in the pan and add sausage. Stir around, breaking it up and cook until no longer pink. About 8-10 minutes total.
Add ¼ Parmesan cheese plus whole oats. Stir.
When squash has cooked for about 40 minutes and is getting soft, take it out of the oven and fill with sausage mixture. Top with remaining cheese and cook again for about 10 minutes. (If your squash is large and/or not quite cooked through, roast for up to 20 minutes.)
For extra bubbly cheese, pop the pan under the broiler for ONE minute.
We served it with homemade bread that Paul's mom made. Here's our favorite bread machine recipe:
Homemade Whole-Wheat Bread
 and our best-ever rolls:
Homemade Whole-Wheat Bread Machine Rolls with Yogurt & Whole Oats