There's so much to love about this old-fashioned chocolate cake: You need only one bowl and a handful of simple ingredients to get delicious results. But here's the real selling point. Its deep chocolate taste and texture is NOTHING like what you get in a box mix.
This old-fashioned chocolate cake is so rich and satisfying that when you eat a slice…you feel totally satisfied. No cravings for extra bites when you walk through the kitchen. Just happiness.
What about the sugar?
Now that our kids are out of the toddler stage (a time when I still think they don't need a lot of sugar), I'm looking at desserts a little differently. To help guide these guys toward healthy, happy eating habits for life, I say this to dessert: Let's eat full sugar, full fat, full FLAVOR treats. But let's have small portions. And let's eat them less often.
At our house we usually declare weekends Dessert Night. Then we don't have to discuss/cajole/bargain with anyone Monday through Thursday.
Plus, it's very cool to show your kids that you can rummage around in a pantry and come out with the best cake they've ever tasted. From actual ingredients.
If you're going to have a chocolate cake, oh boy, it should be this one.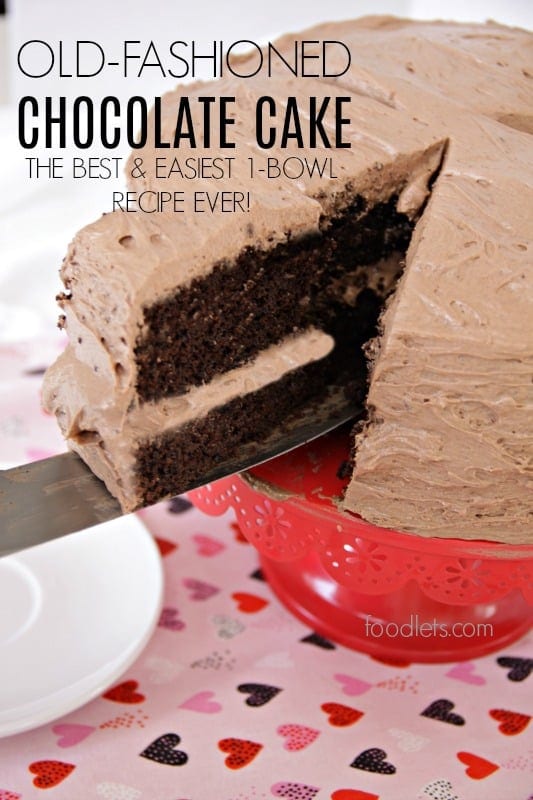 how to make old-fashioned chocolate cake
Put everything together in a bowl.
Mix.
Bake.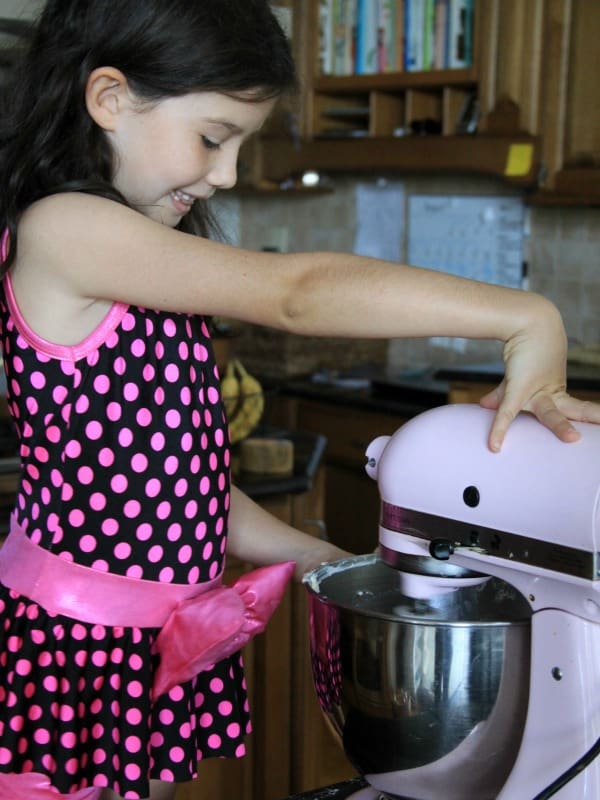 Old-Fashioned Chocolate Cake
No buttermilk? No problem! Make buttermilk by adding 1 teaspoon of vinegar to regular milk. Let it sit for a couple of minutes and stir. Now you have buttermilk!
Ingredients
2 tablespoons butter
1¾ cups flour plus 2 tablespoons extra for pan
2 cups sugar
1 cup unsweetened cocoa powder
1½ teaspoons baking powder
1½ teaspoons baking soda
1 teaspoon salt
2 eggs
1 cup buttermilk
½ cup vegetable oil
2 teaspoons vanilla extract
1 cup hot water
Instructions
Preheat oven to 350 degrees F. Butter two round 9-inch pans with a paper towel. Then sprinkle 1 tablespoon of flour into each pan. Shake until each is coated.
In a large bowl or stand mixer, mix the sugar, flour, cocoa, baking powder, baking soda and salt together. Add eggs, milk, oil and vanilla. Use a hand mixer or paddle attachment to beat for 2 minutes. Turn off the beaters/mixer and add the hot water. Stir until water is incorporated, about 5 times.
Pour batter between the two prepared pans so they each have an equal amount. Bake for 30-35 minutes (33 minutes was perfect for my oven). When you can poke a toothpick into the center and it comes out clean, the cake is ready.
Remove from the oven and let cool in pans for 10 minutes. Invert to a plate, then a cooling rack until completely cool.
p.s. This recipe goes perfectly with my all-time favorite, 2-ingredient chocolate buttercream frosting.