THIS DISH SAVED THE SLOW COOKER from sudden death by way of donation or yard sale, whichever came first.
After tons of weird soups and stringy meat dinners, I finally came up with a great slow cooker recipe that uses real food ingredients (no cans of soup, no gravy packets).
With a recent move from Rome to North Carolina behind us, pulled pork was on my mind. This is my new favorite version–and the kids' too.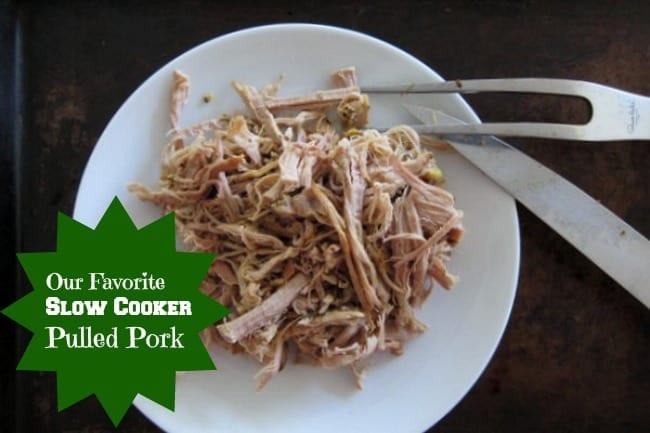 We're pork people, and have loved it in many ways–stovetop pork with rice and zucchini,  crepes with sausage and cream, pork and pineapple kabobs, and of course, bacon-wrapped pork with mustard sauce— so this spinoff was bound to be a success, even in a slow cooker.
For this one, here's what you do:
Put a pork loin in the slow cooker.
Slather it with mustard, olive oil, salt, pepper and if you're feeling fancy, some herbs like rosemary, thyme or even a little garlic.
Turn it on high for 4-5 hours.
Pull it out and let it fall apart with a big fork and knife.
Eat the most delicious dinner of the week.
All three of the kids LOVED this soft and juicy meat.
Bonus: I actually had a double pack with two pork loins so I transformed the same pulled pork into BBQ quesadillas two nights later. Adding BBQ sauce, shredded carrots and shredded cheese, it was another easy and totally delicious meal.
Like this one? Be sure to LIKE FOODLETS ON FACEBOOK so you'll never miss a new idea or tip.