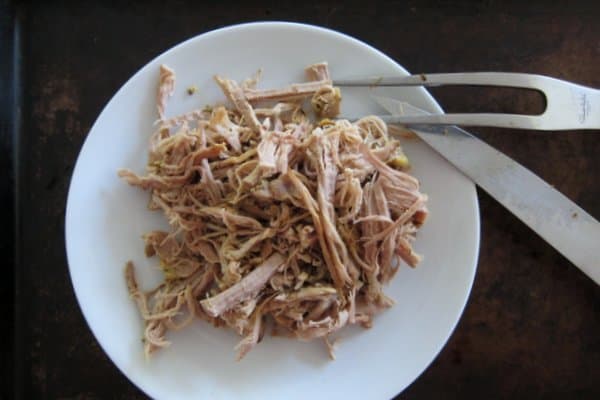 THIS DISH SAVED THE SLOW COOKER from sudden death by way of donation or yard sale, whichever came first. I finally found a good recipe for the slow cooker. And wouldn't you know it, it's pulled pork. Thanks for the idea, North Carolina.
We're pork people, and have loved it in many ways–stovetop pork with rice and zucchini,  crepes with sausage and cream, pork and pineapple kabobs, and of course, bacon-wrapped pork with mustard sauce– so this spinoff was bound to be a success, even in a slow cooker.
For this one, here's what you do:
Put a pork loin in the slow cooker.
Slather it with mustard, olive oil, salt, pepper and if you're feeling fancy, some herbs like rosemary, thyme or even a little garlic.
Turn it on high for 4-5 hours.
Pull it out and let it fall apart with a big fork and knife.
Eat the most delicious dinner of the week.
Bonus: I actually had a double pack with two pork loins so I transformed the same pulled pork into BBQ quesadillas two nights later. Adding BBQ sauce, shredded carrots and shredded cheese, it was another easy and totally delicious
meal.
Also, all three of the kids LOVED this soft and juicy meat. Even George and he only has 2.5 teeth (and usually some kind of bruise on his head).