JUST IN TIME FOR BLUEBERRY MUFFINS! I love summer food. All those berries, sweet peaches and juicy cherries are so easy to serve as snacks (minus the juicy cleanup) but there's an even better side effect: When I see my three rascals lined up on the counter stools, eating all that fresh goodness I feel like I'm doing something right. If you want to split hairs, this bounty is really Mother Nature's amazing idea but I'll totally take credit today. (Hey, when Mother Nature shows up with a broom after lunch, that's when I'll really start deferring the high praises.)
So as both of my readers know, we've made a lot of muffins—chocolate zucchini muffins, banana oat mini muffins, carrot cake muffins, strawberry muffins, even orange pound cake muffins–but never the old classic, blueberry muffins. And like alllll those muffin recipes before it, this one is full of the good stuff, like oat bran and applesauce but there's even more something special going on here: not a single crystal of sugar. And these blueberry muffins are still delicious. Here's how we did it.
Went to a farmer's market and bought a big box of blueberries, per Estelle's request for "blue blues".
Rinsed 'em.
Updated this recipe for perfect blueberry muffins from Smitten Kitchen.
And came up with these.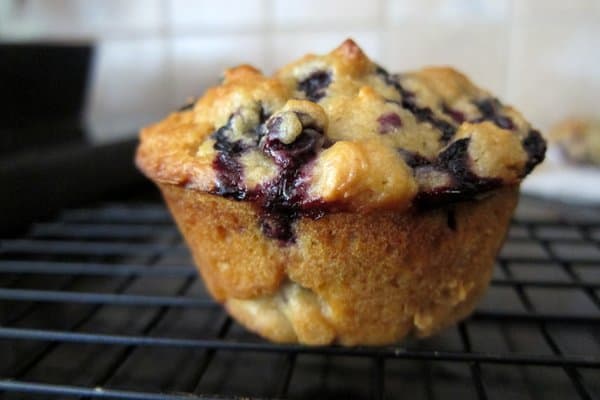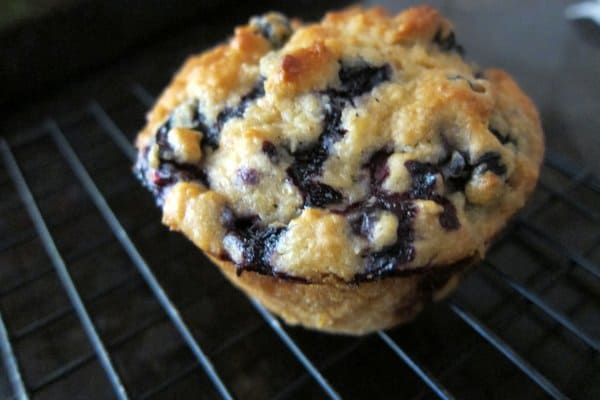 And while all the kids ate their share of muffins, the one who said, "MMMMM" with every bite was a little face who's new to the solid food scene. The big guy.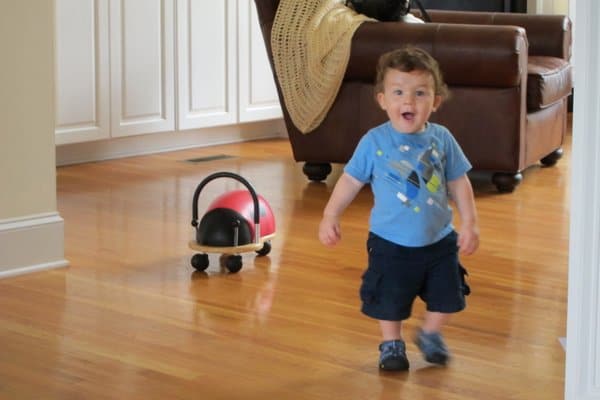 Note, a few of you had trouble with the batter not cooking through so it's been revised below. It worked well for us, so I hope it does for you too!
Print
no sugar blueberry muffins (sweetened with honey)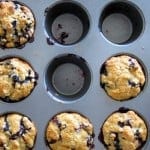 NOTE: This isn't a big batch, it only makes 1 dozen regular size muffins, so double if you want more to freeze. And if you're using frozen blueberries, dust them in flour before adding to the batter. This will help soak up the extra juices frozen berries will have.
Author:
Yield:

12 muffins
Ingredients
2 tablespoons unsalted butter, softened
1/2 cup honey
1/2 cup applesauce
1 egg
3/4 cup plain yogurt
zest of one lemon, plus juice
1 1/4 cups all-purpose flour
1/4 cup oat bran, whole oats, wheat germ or ground flaxseed
1 1/2 teaspoon baking powder
1 teaspoon baking soda
1/2 teaspoon salt
1 cup fresh blueberries (or more)
optional: 1 teaspoon cinnamon
Instructions
Heat oven at 375. Grease muffin tins or use liners.
Mix butter, applesauce and honey together until slightly fluffy. Add egg and mix. Last, stir in yogurt, lemon juice and zest.
Add all dry ingredients–flour, oat bran (or whatever you're using), baking powder, baking soda and salt. Mix until not quite incorporated. When you still see flour in the dough, gently fold in the blueberries. Finish mixing by hand then fill muffin cups almost to the top, a little more than 3/4 full.
Bake for 18-20 minutes, or until the tops of the muffins spring back into place when pressed. Cool on a rack.