THERE ARE PEOPLE IN MY LIFE WHO LOVE MUFFINS. And we've made a lot of them. Banana muffins with millet, banana oat, chocolate zucchini and more. But none, not a single mini muffin, bug-shaped muffin or big ol' muffin in the bunch compares to these. I have a toddler who now cries at the sight of them–if he's not clutching one in his doughy hand–to prove it. (Two were lost during the 5-minute photo shoot, RIP.)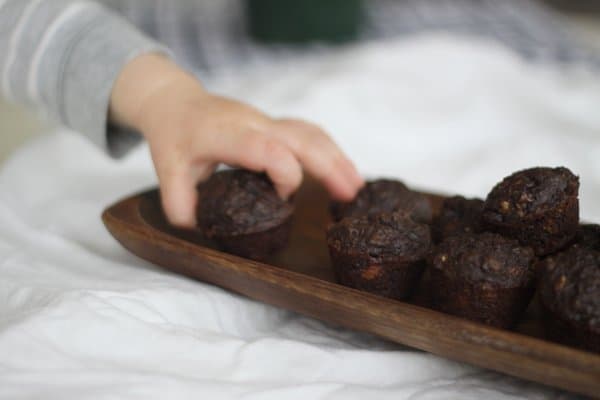 These muffins came by way of Smitten Kitchen, one of the dreamiest food blogs around. When I saw the post about that decadent double chocolate banana bread on Facebook, I had to recreate it here. Except I lost some sugar, added chia seeds, maple syrup and more.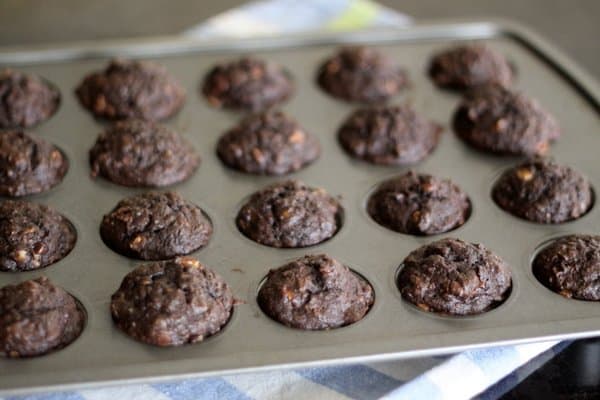 Like the rest of our recipe makeovers, my aim is usually twofold: 1. remove the sugar and 2. stuff in as much of the good stuff as I can get away with. Butter I'm not so worried about, especially when it's nice sweet cream butter and even better when it's organic. The trick to winnowing out sugar though, is adding other flavors. So we doubled the vanilla and added an extra banana, maple syrup plus the cinnamon labeled "optional" in the original recipe. Then came the chia seeds and whole oats.
The munchkins helped, each one taking turns dumping in flour, brown sugar and vanilla. And to his delight, even George got to stir valacyclovir get yesterday. It's a one-bowl recipe that takes 13 minutes to bake so if you don't have your small chefs in the kitchen when you make these, consider that it's just about the time it takes to watch one episode of Backyardigans. Coincidence?
Better-For-You Double Chocolate Banana Muffins
Adapted from Smitten Kitchen
ingredients
4 very ripe bananas
1/2 cup (1 stick) melted butter
1/2 cup brown sugar
1 egg
2 teaspoons vanilla
1/4 cup maple syrup
1 cup whole wheat flour
1/2 cup unsweetened cocoa powder
1 teaspoon baking soda
1/2 teaspoon salt
1 teas cinnamon
1/4 cup chia seeds
1/2 cup whole oats (not quick cooking)
1/4 cup mini chocolate chips
instructions
Preheat the oven to 350 degrees F. Grease mini muffin pan or use liners (I use softened butter on a paper towel).
In a large bowl, mash the bananas. Melt butter and pour over the top of bananas (dairy has a magical quality to pick up flavors and better distribute through the rest of the batter, so do this first). Stir. Add sugar, egg, vanilla and maple syrup and combine well.
Set a metal sifter over the top of your mixing bowl and pour in the flour, cocoa powder, baking soda, salt and cinnamon. Sift and remove sifter. Add chia seeds, whole oats and chocolate chips. Stir until everything is JUST combined.
Fill muffin cups to the top and bake for 13 minutes. Allow to cool before removing. Store in refrigerator or inside a large zip-top bag in the freezer.