Michael Pollan is right again.
Want to feed your family healthier food? Don't worry so much about fads or trendy ingredients he says in his new PBS documentary. Just eat healthy-ish.
Ever since I started cooking for my first baby six years ago, which was around the same time that I started paying attention to what I was eating–and the way I was eating–myself, I've circled around this very idea.
Yes, I try to add good-for-you ingredients where I can. Half a cup of wheat germ here, spinach in popsicles, and a handful of chia seeds in a batch of pumpkin muffins. But beyond that, I'm not getting into the confusing world of specific ingredients to add or avoid.
Instead, I'm focusing on eating fresh, nourishing food MOST of the time, then eating whatever I want for the rest. That goes for the kids too. It's a lifelong habit they'll thank me for one day and in the meantime, they already ask for tons of healthy food already. That's not a brag, but meant to be inspiring. Because you can get there too.
No matter where you are, whether you're already rocking a healthy kitchen (and if you are, please share your best tips below!) or in need of a good place to start, these are 4 areas almost all of us can easily improve on. And the good news? Not one requires a complete overhaul. Just little updates that one by one, can add up to a healthier way to eat forever.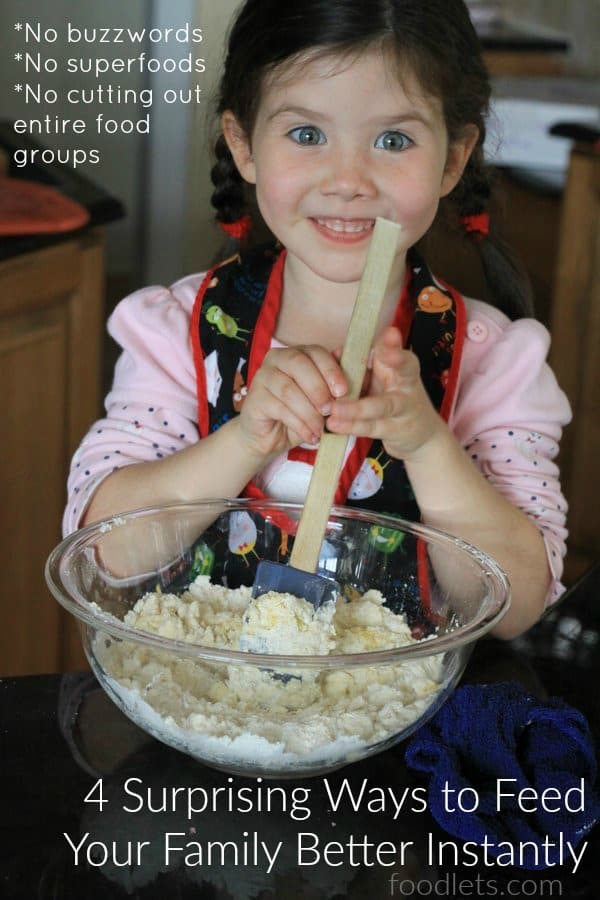 1. Cook At Home More Often.
If this means cooking ONE dinner a week, start there. If you're doing two dinners, kick it up to three. (Sound impossible? Try one of my 10 tips for cooking dinner more often. This is what works for me as a busy mom of four small kids!) And I'm not talking about complicated fare: one easy dinner with a simple side dish, that's the formula we use around here. If dinners are a cinch but you're relying on processed food for breakfast, try to turn that around. (Start with these non-processed food breakfast ideas.)
Here's why it's worth it: the food you're cooking at home is almost automatically going to be better for you than anything you'd get at a restaurant and certainly higher in nutrition than fast food or something from the frozen food section.
And if you're cooking with real ingredients, Pollan suggests, it doesn't really matter WHAT you're cooking as much as you might think. Mostly because you don't have artificial additives in your pantry. "Unlike large-scale food purveyors, humans are entirely less likely to put things like sodium stearoyl lactylate and soy lecithin in the meals they prepare at home," says writer Sophie Gilbert at The Atlantic discussing Michael Pollan's new show about the concept of eating healthy-ish. "If you're cooking dinner, chances are you're baking potatoes rather than tossing them in a deep fryer, and steaming vegetables instead of dousing them in butter and salt."
Pollan has a simple prescription for figuring out the now complicated world of food: just cook for yourself. Instead of worrying about the latest research on all the specific ingredients we've all come to know and either dread or seek out–and sometimes do one, then the other–just focus on "delicious, comforting home cooking that just happens to be kinda good for you."
But listen, don't drive yourself over the edge. This isn't an attempt to make anyone feel like they're not doing enough. If you're even reading a post like this one, you are a parent who cares about your kids like crazy. So just keep going! Next…
2. Use Salad Plates Instead of Dinner Plates.
Portion size is one of the easiest ways to eat healthier. You don't even have to change what you eat here, just don't eat too much. Here's a big lesson I want to teach our kids: listen to your bodies. It's totally possible to overeat "good stuff", so figuring out how much to eat until you are JUST full is a valuable life lesson.
My husband is one of those naturally skinny people and to be honest, it can be a little maddening. He doesn't work out. (I do.) He's not a big fan of kale, quinoa or spinach (I am.); in fact, he's got his own stash of Cheese-Its in the pantry. But he never eats more than a handful. (I do. And, aha!)
Along those lines, our kids love starchy foods like toast, bagels, crackers, you know what I'm talking about. They'd eat carbs all day long, but I want to train them to make eating fresh vegetables and fruit a bigger part of their eating habits with one easy move: I don't offer seconds of starches. Everyone gets one portion. I'm not withholding anything from anyone, I've just prepared enough so every gets a serving. But I DO offer more fruit or more veggies to anyone who is still hungry.
The attitude is important here too. Again, it's not about what you can't have. It's about appreciating how much everyone enjoyed the one thing, and the abundance of fresh food that remains available.
3. Make Weekends Dessert Night–And Skip It for the Rest of the Week.
Sweets should be a treat (this is as much a note to myself as it is to my kids!) We used to have a complicated rotation of Dessert Night, Fruit Night, No Night. Then a friend told me that his family simply declared the weekend a sweets-friendly zone. Brilliant! That way their kids don't have to ask if they can have ice cream on a Wednesday. (My kids are so small, the days of the week are a little hazy so we stick with days when Daddy is home for the whole day.) Works like a charm.
AND because it's not a constant demand, we actually have time (and the interest for) browsing Pinterest and the like, looking for new and decadent desserts to try. I used to focus on a lot of low-sugar desserts but now that we're only eating dessert a couple of times a week, we totally go for it. And it's delicious.
4. Add Vegetables to Everything. 
The New York Times recently reported something inspiring: "Sales of raw fruits and vegetables are also growing — among children and young adults, per capita consumption of vegetables is up 10 percent over the past five years." Ten percent is great. The only problem is, most of us were eating so few to start with, that a small boost like this means we're still not getting near enough vegetables into our lives.
By a long shot. Medical News Today reported this news earlier in 2015:  "The Centers for Disease Control and Prevention (CDC) analysis concludes that only 13.1% of American adults eat enough fruits and only 8.9% eat enough vegetables." That's you and that's me.
Part of it is habit. Most kids (and adults) balk at the idea of vegetables because it's not our usual thing. But if you start adding veggies to places they didn't appear before you're changing something. A few easy places to start: Put frozen spinach in the scrambled eggs. Add a handful of shoe-string carrots (the kind that are already grated at the store) to smoothies. Slather avocado on your toast instead of jam. Just start infusing your meals with vegetables and you'll suddenly find you're eating a lot more of them, and not minding at all.
The other problem I hear about a lot is a lack of fast and tasty recipes that the whole family will eat without complaining. I can help! Here's a list of our family's favorite vegetables, the ones that at least 3 out of 4 of my crew eats happily every time. And of course, they're all simple enough to make it into your regular rotation.