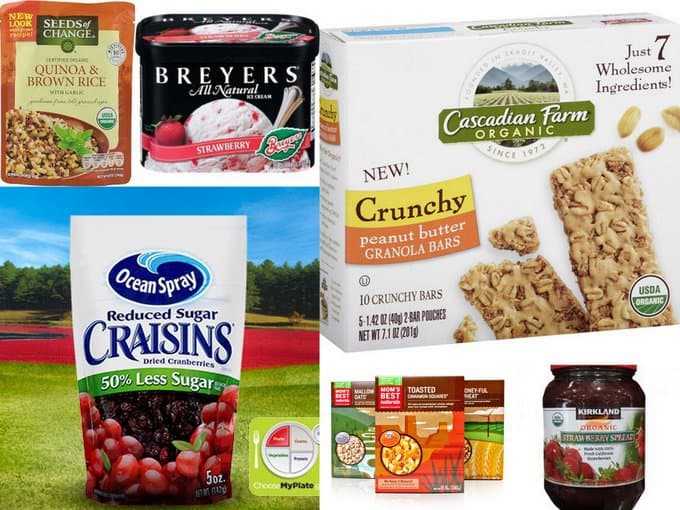 THAT'S RIGHT, I DON'T ALWAYS COOK EVERYTHING FROM SCRATCH. Most of our meals are made from fresh, whole ingredients but not every time. Anyone with small kids (and likely those without but who can even remember those days right now?) will run out of two things at some point: time and energy. Or maybe it's just me. That's entirely possible but when it does happen here, I figure a few time savers beat a from-scratch meal if it's going to come with a big side of screaming. From me. With that said, here are my MVPs of the supermarket.
Most are healthier than other choices though I'd be remiss to pass them off as "health food". These are simply good alternatives to home cooking when that just won't work. And I don't have any relationships with any of these brands, other than quite a bit of gratitude.
Cascadian Farms Organic Granola Bars.  They're crunchy, just sweet enough and made from 9 ingredients that I can pronounce. If I had the wherewithal to make granola bars often, these are just what I'd make–but I don't so I buy these at Costco and whip them out to round out lunches or snacks.
Seeds of Change Quinoa and Brown Rice. Typically I'm not at all into "microwavable" foods but there are times when the day/week/pregnancy has wiped me out enough to call in reinforcements. And opening a pouch of this pre-made rice and quinoa is not only easy (and perfectly cooked every time) but it's also delicious and healthy enough to do in a pinch. We put all sorts of things on top, my favorite being leftover beef or pork smothered in a new sauce for tonight's dinner, maybe BBQ, maybe a mustard sauce, maybe it's leftover Sloppy Joes which has been our biggest hit so far.
Organic/Freshly Made Ravioli. I'm not partial to a brand here, but I do seek out those fluffy little pasta squares that are either made from organic ingredients or fresh (rather than frozen), and ideally both. You can add pasta sauce to them, or otherwise jazz them up for the easiest dinner of the week: ravioli with peas & pancetta or ravioli with spinach & bacon.
Mom's Best Cereal. We're really into the Cinnamon Toasted Squares on busy mornings. In fact, my kids actually cheer when I say it's a cereal day, making me question all that time I spend making homemade muffins but I digress…
Unsweetened Applesauce. Again, no brand loyalty. I like Trader Joe's organic but can't always get there to stock up, so when I run out and don't have time to make my own I'll use any brand with recognizable ingredients–and as few of them as possible.
"Reduced Sugar" Craisins. We eat a pretty crazy amount of dried cranberries; putting them on top of everything from cereal (see above) and into all forms of muffins and chewy oat bars. Since cranberries come pre-sweetened, I always opt for the Less Sugar variety which claims to reduce the white stuff by about 50%–plus they're routinely on a Buy 1, Get 1 Free sale at the Food Lion. Both work just fine for me.
Kirkland Organic Strawberry Spread. It's a huge jar full of strawberry goodness, and since strawberries are on the Dirty Dozen list, I do try to find organic when I can (and can afford it). I love that this lasts and lasts, even when we use it for everything from toast, to rolled PB & Js to strawberry jam tarts.
Breyer's Ice Cream. I can't speak for the more exotic flavors but their chocolate, strawberry and vanilla are all made out of milk, sugar, cream and sometimes fruit, with the fewest number of weird additional ingredients I've found so far. And though it's more expensive than some other brands, it's also easy to find on sale often enough.
Whole Wheat "Take & Bake" Bread from the bakery. I have a little love affair going with these homemade rolls right now, but they take hours to rise and bake so when I want crusty bread in less time than it takes to beg the kids to go down for a nap, I dive into the freezer where I always have at least one spare loaf ready to pop into a hot oven. Like my Seeds of Change rice, the results are perfect every time. We slice ours and slather with salted butter or olive oil.
Frozen whole edamame. Cringe along with me but for the second time I'll recommend microwaving food and feeding it to kids. Up until a year ago I didn't even HAVE a microwave but now I've caved and if I'm going to fire that thing up, I'm happy to be serving warm, salty and protein-packed beans like these to the little guys.