I'm one of those people. The days after my first baby were born are some of the sweetest in my whole, entire life.
(Not the birth itself. This is an important distinction. My first experience with natural childbirth was, um, surprising. I simply didn't know your body could feel like that while NOT being attacked by a shark. But you can. #learnedsomethingnew #stilldiditagain #andagain #epiduralwithnumberfour)
Friends drifted in with yummy baked goods while my mother-in-law took up residence in our tiny kitchen, coming all the way to Rome with an apron in her suitcase. It was late May, the sun was soft and honestly, the whole thing was pretty dreamy.
Yes, I was tired. Yes, I was recovering. But still, those early days felt almost leisurely.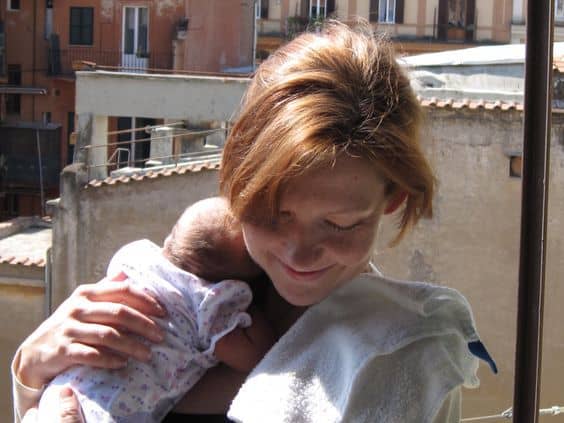 Cut to the six week mark. That's when I felt like a Mack Truck slammed right into my life.
I think about how nice it would've been to have someone swing by with fresh muffins right about then. Once all that sleep depravation started to swirl around in my brain for just long enough to make me wonder if I'd ever feel like a normal person again?
Ding-dong. Fresh muffins! 
Because it's not just muffins. Moist, fresh and possibly stocked with good-for-you veggies, those sweet little somethings translate into an important message:
I'm thinking of you.
You can do this!
You're not alone.
And yes, you can KEEP doing this.
(Don't worry if muffins aren't your bag, because honey-mustard chicken says the same thing.)
You get the idea. I love a follow-up gesture. By all means, go visit your friend and her adorable new baby in the early days! But don't forget how tiring it is a little further down the road.
Because in my experience, that's when the going gets REALLY tough.
Especially when she already has other littles at home.
And when you do, here are a few of the most appreciated dishes I've ever showed up with:
This is one of my all-time favorite muffin recipes and I make A LOT of muffins. I love that they're sweetened with honey instead of sugar plus the coconut oil adds a knock-out flavor I haven't tasted in other banana muffin recipes.
Muffins are also awesome because they're versatile. You can freeze them, serve them for breakfast (which tired moms often struggle with) or cut one in half and make it the star of a lunch box for the new babe's bigger sibling.
More healthy muffin ideas:
This is comfort food at its best. Just bring all the toppings on the side (cheddar cheese, bacon, possibly scallions).
Perfect for moms, dads and littles who can customize the results any way they like. My rascals had a hard time with some of the dishes our well-meaning friends brought when new babies were born. Any DIY toppings will always be a huge help to a mom who already has kids at home.
Consider throwing in the kind of bagged salad that includes dressing to round it out.
Bonus: This is another meal that can easily be frozen to enjoy later.
Want more kid-friendly soup ideas?  Soup is so portable and easy to store and reheat in individual portions. Here are my crowd's very favorites:
If you haven't made your own red sauce yet, this recipe will convert you for life. It's so SIMPLE but SO GOOD you'll never think of the jarred stuff the same way again. Make a double batch and bring half to your friend. Trust me, you'll want to keep some around.
I love this one as a gift because it travels well but also turns out to be totally versatile:
Make sliders.
Make a pasta casserole. (One of the cardinal sins of bringing food to new moms is anything they have to prepare themselves. So make the pasta at home first, then mix with the noodles. Put the whole thing in a recyclable aluminum casserole dish and add a drizzle of olive oil and freshly grated parmesan cheese. This dish can be popped into the oven for reheating, ready to go.)
Throw the whole thing in the freezer and enjoy it all another time.
PS. No one makes homemade meatballs unless they're TOTALLY on top of their game, which makes them a nice treat. But if you opt for a the meatballs straight from the frozen food aisle, we'll never tell and no one would complain!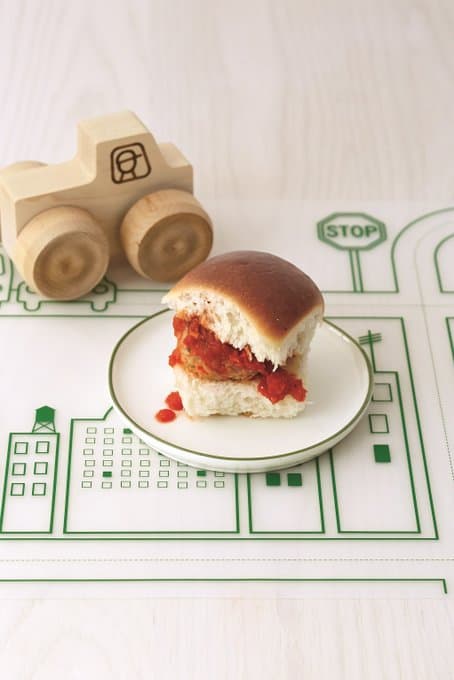 Full of whole oats, which are said to boost a new mom's milk supply, these bars have something else going for them too: They're DELICIOUS! My kids love them for breakfast, snack and can even be passed off as dessert. #hellowhippedcream
More oat-filled dishes for new moms:
There are just some recipes that turn out perfectly every time. That everyone loves. That never produce leftovers. This is one of them.
My kids still talk about this honey-mustard chicken in breathless tones. "Can we make the chicken for them?"
Just be sure to cut up the chicken into small pieces if you're delivering this meal to a new mom. One-handed meals are mandatory at this stage and she'll be thrilled to avoid balancing a baby in one hand with a steak knife in the other. (Ditto for having to cut up meat if she's got other littles.)
More chicken dinners everyone always loves:
Roasted chicken with vegetables (Just be sure to carve the chicken so it's ready to serve. I've brought this one in the past and it's an amazing pick-me-up!)
This is the second post about favorite foods to take a friend in need. The reaction to our first post was so exciting that I wanted to share more of our greatest hits here.
PS. This is my very favorite gift for new babies right now. We happened upon this book at the library and it's so charming and actually TRUE! Who knew the real story behind Winne the Pooh was so touching?
And if there's an older sibling in the picture, give THEM the book and send this squishy little bear to the new baby. #sewneyes #safeforbabies
Check out our full collection of recipes for simple ideas with fresh ingredients, sign up for the Foodlets newsletter and like us on Facebook to get updates (and laughs) from the most delicious sources around.